Trail Reports
Posted: 02/07/2022 08:06 pm
Status: Closed
Condition: Closed
Trail Report
Mon. Feb. 7
We had a few trails open over the weekend. All trails will be closed Tues Feb. 8 at 8am due to lack of snow and predicted warm temperatures.
Posted: 02/04/2022 02:05 pm
Status: Partially Open
Condition: Poor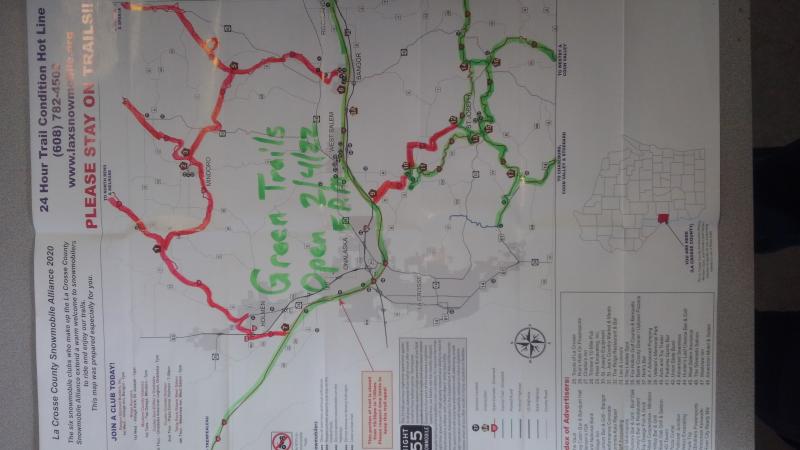 Trail Report
Fri Feb 4.
Some trails in LaCrosse county will reopen at 5 PM today. The LaCrosse River and Great River State trails from Rockland to Trempealeau and the trails around St Joe's and Middle Ridge will open. All other trails will remain closed. 
Groomers have been out trying to make the best out of the snow we have. There is decent snow in the woods and north facing hills with poor snow cover and thin spots in the open areas. Please make your own judgement on whether or not to ride 
Posted: 01/30/2022 07:12 pm
Status: Closed
Condition: Poor
Trail Report
Sun Jan 30
All snowmobile trails in LaCrosse county will close Mon morning Jan 31 due to forecasted warm temperatures and lack of snow.